Public final AQUATAG event: Recreation at water bodies - human relaxed, water body stressed?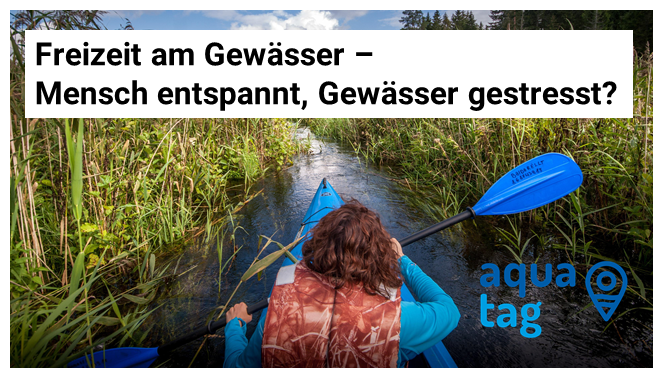 Do you enjoy spending your free time at the water? Have you ever asked yourself about your "ecological paddling footprint"? Are bathing or fishing restrictions scientifically justified in the light of environmental protection of water bodies?
We have scientifically investigated these and other questions and will present the main results of the AQUATAG project in a public lecture event and would like to discuss them with you.
Contents:
Relationships between recreational use and water ecology and quality
Preferences of different recreationalists in choosing water bodies
Satisfaction and conflicts over water recreation
Possibilities for forecasting and controlling visitor numbers
Recommendations for the management of water bodies
Agenda: Download Agenda
When: Wednesday, 31.8.2022, 13 – 18 // Thursday, 1.9.2022, 9 – 14
Where: Monom at Funkhaus Berlin, Nalepastr. 18, 12459 Berlin. The event is held on site, online participation is not possible.
Registration: Registration is mandatory until Friday, 12.8.2022, using the following link: https://eveeno.com/igb-academy-aquatag
Conference language: German, no translation to English will be provided.
Target group: The event aims at stakeholders in associations, authorities and science as well as interested individuals from the field of water sports, boating, swimming, angling, fishing, water tourism, nature conservation, etc.
Contact: Christine Beusch (Coordinator AQUATAG, christine.beusch@igb-berlin.de), Dr. Simone Podschun (Koordinatorin, simone.podschun@igb-berlin.de) and Dr. Markus Venohr (Project leader, markus.venohr@igb-berlin.de)